The award ceremony of the III Edition of the Hydrogen Foundation Awards has been framed within the launching ceremony of the XX Anniversary of the Aragon Hydrogen Foundation. Once again this year, the aim of these prizes was to support research at the highest level in technologies related to the use of hydrogen as an energy vector. This year, as in previous editions, the prizes were open to authors of Doctoral Theses, Master's Theses and Degree Final Projects from different Universities. These works correspond to the different award categories. These awards have been made possible thanks to the support of our Sponsors.
Redexis Foundation Award for Best Doctoral Thesis
The Redexis Foundation aims to develop social, charitable, welfare, educational or cultural works, as well as to serve as an agent in the energy transition. In particular, it promotes the development and well-being of society, supporting the use of renewable energies and care for the environment, and its mission is aligned with the Sustainable Development Goals (SDGs), promoted by the United Nations. The Redexis Foundation, with the help of Dr. Lola Storch de Gracia, Head of Innovation at Redexis, has awarded the Hydrogen 2022 Foundation Prize for the Best Doctoral Thesis, valued at 2,000 €, to Yong Peng for his work: "Hybrid Lead Perovskites as Photocatalysts and SrTiO3 based catalyst for Photothermal nitrogen hydrogenation". Prof. Hermenegildo García Gómez and Dr. Josep Albero Sancho co-directed the thesis.
"It is a great honour to receive this prestigious award in recognition of my doctoral work. This award marks an important milestone in my academic career and will undoubtedly strengthen my confidence and inspire me to pursue scientific research with unwavering determination. I take this opportunity to thank my supervisor, Prof. Hermenegildo García, and Dr. Josep Albero for their mentorship and the profound impact they have had on my academic development" says the winner Yong Peng, a student at the Univesitat Politécnica de València (Instituto Universitario Mixto de Tecnología Química).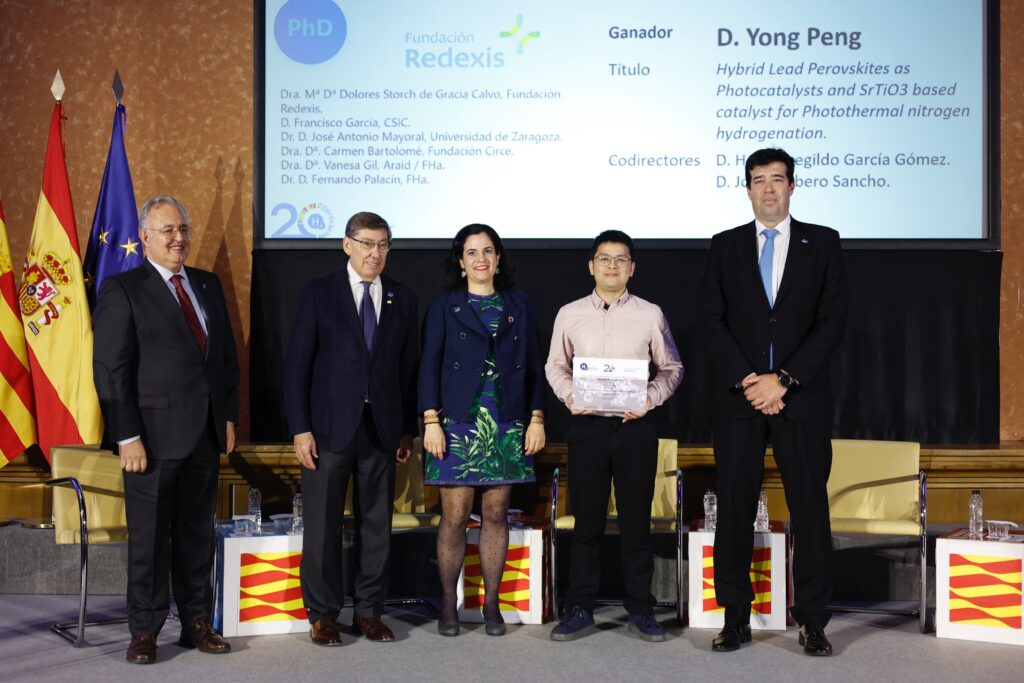 IDOM Award for the Best Final Master's Degree Project
IDOM is a leading multinational company in the provision of professional consultancy, engineering and architectural services. One of its competitive advantages is the exceptional level of commitment it offers its clients, accompanying them in all phases of their projects. Fernando Martínez Altarriba, Director of the Geographical Area at IDOM, presented the Prize for the Best Master's Thesis, worth €1,000, to Irene Vela Murillo for her work: "Electrocatalysts for the oxygen reduction reaction based on carbon materials derived from wine-making waste". Her excellent work was co-directed by the co-directors: Ms Sara Pérez Rodríguez and Ms María Jesús Lázaro Elorri.
"This award allows me to recognise all the effort I have put in and is a stimulus to continue researching hydrogen technologies. I feel grateful and fortunate to continue to be part of this team of people who continue to help me to grow professionally, especially my directors Sara Pérez and Mª Jesús Lázaro": says the winner Irene Vela, a student at the University of Zaragoza (Institute of Carbochemistry).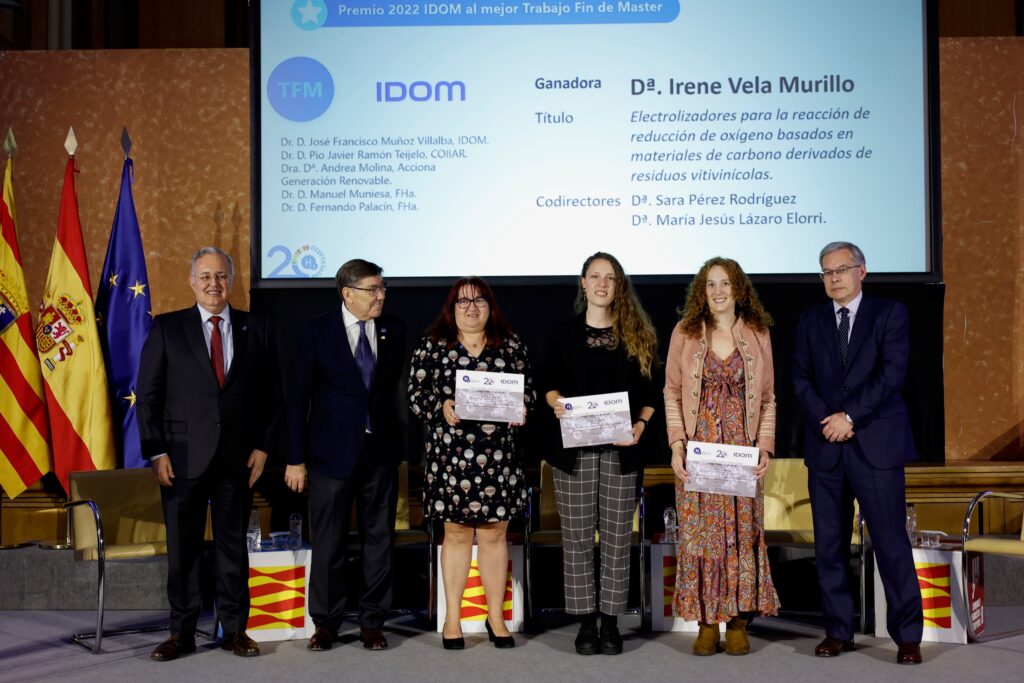 ERCROS Award for Best Final Degree Project
Ercros is an industrial company dedicated to chlorine, intermediate chemistry and the pharmaceutical division. Its business model is carried out in Spain and abroad, positioning itself in more than 128 countries.
The company has acquired a commitment to society insofar as its success and permanence depends on the prosperity of society. This commitment has led them to sponsor the ERCROS Award category for the best Final Degree Project, valued at €800. The award was presented by Luis Gállego, Director of ERCROS Sabiñánigo, to Cristian Barón Vidán for his work "Feasibility study of the integration of Power to Gas technology in the glass industry". This study was co-directed by Mr. Jorge Perpiñán Hinarejos and Ms. Begoña Peña Pellicer.
"I feel very honoured to have obtained this recognition, both for my efforts and those of my two directors. This award will motivate me to continue my training in the field of renewable energies": says the winner Cristian Varon, a student at the University of Zaragoza.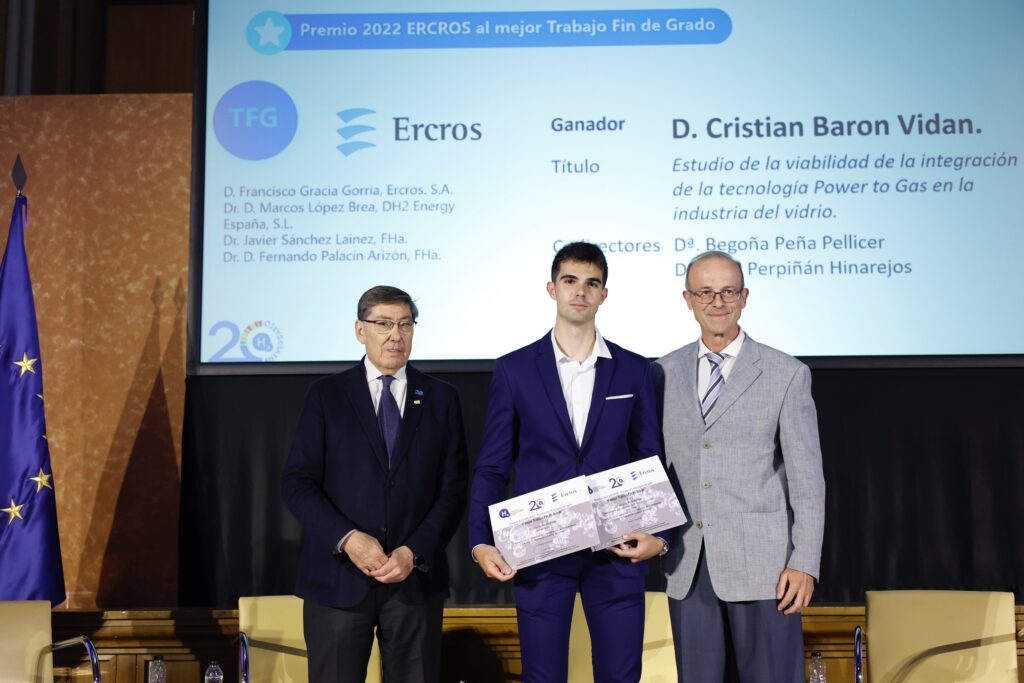 From the Foundation we would like to thank all those participants and applicants to the Hydrogen Foundation Awards in its III Edition. Thank you for betting on hydrogen as an energy vector and sharing our passion for its development and applicability.