#rowTransparencia-1
At the Aragón Hydrogen Foundation we believe it is important to explain to everyone who supports our organization, what we do in our day-to-day work. That is why we have created this transparency portal whose objective is to show citizens information about our activity, the purpose of using public funds, and other topics of public interest.
#rowFeaturesTransparencia
Economic-budgetary
information
ORGANIZATION CHART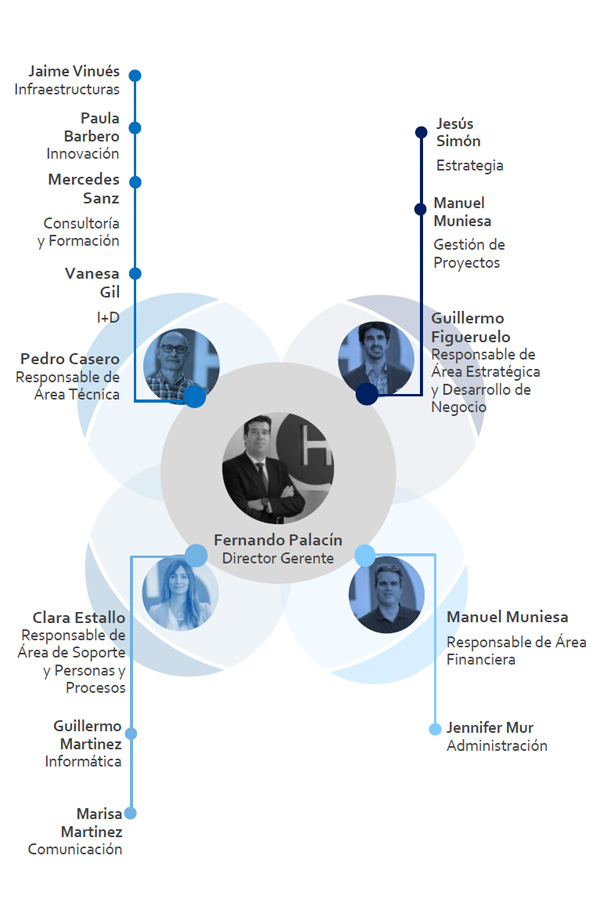 JOB POSITIONS
Director
Area Manager
Department Manager
Coordinator
Expert
Specialist
Technician
Assistant
HIGH CHARGES AND REMUNERATION
PRESIDENT
Dña. Mª del Mar Vaquero
No specific remuneration
for the performance of the position
VICE PRESIDENT
Dña. Mª del Mar Paños
No specific remuneration
for the performance of the position
DIRECTOR/MANAGER
D. Fernando Palacín
Anual remuneration
of 68.874,12 € gross
SECRETARY
Dña. Cristina Asensio
ARAGON'S SOCIAL RESPONSIBILITY
FHa, Socially Responsible entity in Aragon.
Every year we obtain the RSA seal with the aim of complying with and abiding by the principles of the Social Responsibility Plan of Aragon:
Transparency
Sustainability
Respect for employees and volunteers
Excellence in management and customer orientation
Relationship with suppliers
I+D+i MANAGEMENT: UNE 166002
We are certified in UNE 166002:2021, whose principles govern our organization.
Value generation
Leadership focused on the future
Strategic management
Culture
Ideas with purpose
Uncertainty management
Adaptability
FIGHT AGAINST FRAUD
Anti-fraud measures plan for the execution of actions financed with next generation funds.
This plan, which aims to define the main actions to be taken to avoid misuse or fraud in the financial resources of the Recovery, Transformation and Resilience Plan (PRTR), with the purpose of preventing, detecting, and establishing corrective measures so that the financial resources coming from the European Union are not wasted and fulfill the important purposes for which they are allocated.
FHA WITH EQUALITY
FHa Equality Plan.
The Aragon Hydrogen Foundation is committed to equality from the very moment of its creation, as evidenced by its selection processes and labor relations, although we are aware that there is still some way to go. The diagnosis, measures and evaluation and monitoring procedures included in this Equality Plan are the best guarantee of continuous improvement in this area.
ACTION PLAN 2022
Download the PDFs for more information