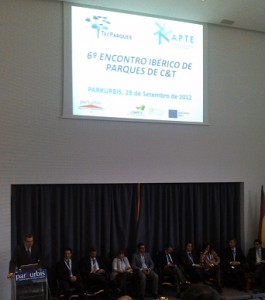 La Fundación del Hidrógeno en Aragón participó durante los días 27 y 28 de Septiembre en el VI Encuentro Ibérico de Parques Científicos y Tecnológicos celebrado en Parkurbis (Covilhã – Portugal).
Durante el encuentro tuvieron lugar varias mesas redondas sobre las siguientes temáticas:
– Las universidades como actores fundamentales del emprendedurismo
– El Programa Horizonte 2020 en Portugal y España: ¿cuál es el papel de los parques científicos y tecnológicos en esta herramienta?
– La visión de los parques científicos y tecnológicos y las empresas emprendedoras en los sectores estratégicos: Salud, Energía, y Tecnologías de la Información y la Comunicación.
De forma simultánea tuvo lugar un encuentro empresarial entre entidades de parques científicos y tecnológicos portugueses y españoles.
En esta edición del Encuentro Ibérico, se congregaron más de 120 participantes, 60 de ellos representantes de más de 50 parques españoles y portugueses.
Nuestro compañero Alfonso Arnedo, participó en el encuentro en una mesa redonda en representación de la Fundación.
Parkubis, Science and Technology Park of Covilhã (www.parkurbis.pt)
Parkubis es el parque científico y tecnológico de la ciudad de Covilhã, situada en la región de Beira Interior, que tiene una extensión de 100.000 m2. La misión de Parkurbis es el fortalecimiento de la economía en la región portuguesa de Beira Interior, el aumento del nivel tecnológico de la industria y los servicios existentes y promover la diversificación de los sectores de actividad nuevos, la creación de masa crítica en I + D, en la Región.