The Foundation for the Development of New Hydrogen Technologies in Aragon has participated in the second day of the Cavendish Mission, an initiative that seeks to publicize the projects being developed in Chile and Latin America in the field of green hydrogen. The first day of this initiative was held in January 2020  in the commune of Vitacura, in Santiago de Chile.
Due to the situation caused by the Coronavirus COVID-19 pandemic, the Cavendish Mission has been transfromed to digital format. The first session of this second day focused on international projects and techno-economic parameters of the value chain and was held on Tuesday, 7 April. More than 450 people from all over the world participated, confirming the worldwide interest in new applications of hydrogen technologies.
The second session of this second day of the Cavendissh Mission will be held on Tuesday 28 April at 3 pm (CET) and will address the updating of component costs, as well as financing alternatives.
The Cavendish Mission is an initiative promoted by the Solar and Energy Innovation Committee, the Chilean Hydrogen Association and the Innovation Club. It aims at rediscovering the use of hydrogen as an effective solution for energy transition and decarbonisation in Chile.
The Aragon Hydrogen Foundation and the Cavendish Mission
Fernando Palacín, managing director of the Aragon Hydrogen Foundation, was invited as special speaker to explain the FHa's experience in managing hydrogen cooperation projects.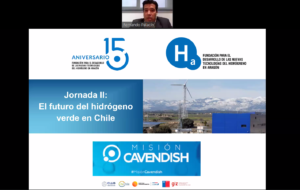 The FHa director briefly explained some of the projects developed by the Foundation, such asE Ely4off, H2PiyR, SustainHuts, HIGGS, Hylaw or HyTunnel-CS. In more detail, the director of the Aragonese foundation referred to BIG HIT, a project in the Scottish Orkney islands to demonstrate the operation of an integrated model of hydrogen production, storage, transport and use for heating, electricity and mobility.
"To develop the hydrogen sector, we need to work in cooperation, as united as possible", highlighted Fernando Palacín when asked by the Chilean Hydrogen Association about how to promote the implementation of hydrogen in the Latin American country.