SustainHuts
Sustainable Huts
July 2016 - June 2021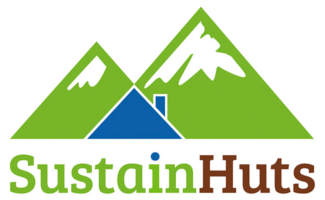 Is a demonstrative project which aims to reduce CO2 emissions in natural environments acting in huts by implementing novel and original renewable energy based solutions and allowing local authorities having several demo sites to start thinking in the implementation of an action plan in order to contribute to reduce this emissions in all constructions of this type such us huts, hotels in natural parks or in places where nature is the main important part or in other touristic zones in isolated places (e.g. islands).
The different technologies to be applied will be based on photovoltaic, micro hydro power and wind energy generation, fuel cells, electrolysers, hydrogen storage as well as new insulated materials which will be installed in the huts in order to demonstrate, show and educated in the climate change adaptation.
The aim is to achieve a 20% improvement in energy efficiency, a reduction of CO2 (carbon dioxide) emissions by 21 tonnes per year per hut and NOx (nitrogen oxides) by 0.5 tonnes per year and hut, as well as reducing the number of helicopter trips made to them to supply the current fuel, with an estimated saving of one tonne per year of kerosene per establishment.
The Foundation for the Development of New Hydrogen Technologies in Aragón is the coordinator of the project and actively participates in all work packages. Its activity is mainly focused on the assessment of the technologies to implement in the aragonese huts (specially the hydrogen system to install in one of them), the monitoring of the environmental indicators in all the huts, and also is the leader of the communication and dissemination activities.
Funding entities

The LIFE programme is the EU's funding instrument for the environment and climate action. The general objective of LIFE is to contribute to the implementation, updating and development of EU environmental and climate policy and legislation by co-financing projects with European added value.