EVERYWH2ERE
Making hydrogen affordable to sustainably operate Everywhere in European cities
February 2018 - October 2023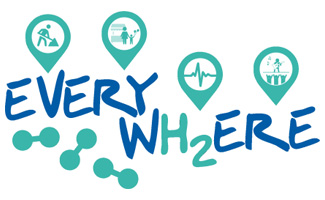 The main goal of EVERYWH2ERE project is to develop transportable gensets based on hydrogen technologies, aiming to be a feasible alternative to diesel generators and to be capable of supplying power demand in off-grid temporary events.
Due to the vast expertise and experience from consortium partners, EVERYWH2ERE project will integrate PEM fuel cells and pressurized hydrogen storage systems in 0 emission and 0 noise generators. Those gensets will be tested around Europe in three crucial sectors: construction sites, music festival and urban public events. These kinds of events are an interesting showcase to promote the potential of hydrogen technologies due to their large audiences.
Results obtained during the demonstration phase will be capitalized in three replicability studies, which aim to show the viability of gensets use in three specific contexts: emergency and reconstruction sites, mining industrial sites and ships cold ironing in harbours.
Moreover, thanks to the strong involvement in the project of local authorities, EVEYWH2ERE project objective is also to define a commercial roadmap and a suitable business model for the marketability of the gensets within 2025.
FHa leads the WP7, Dissemination, Stakeholders and Public Opinion Engagement. It also has the role of coordinating the demonstration for the use of 1x25 kW and 1x100 kW gensets in events in Spain.