Del 2 al 9 de junio Tokyo acogió la octava edición del WHTC2019 en la que participó la Fundación Hidrógeno Aragón con tres ponencias.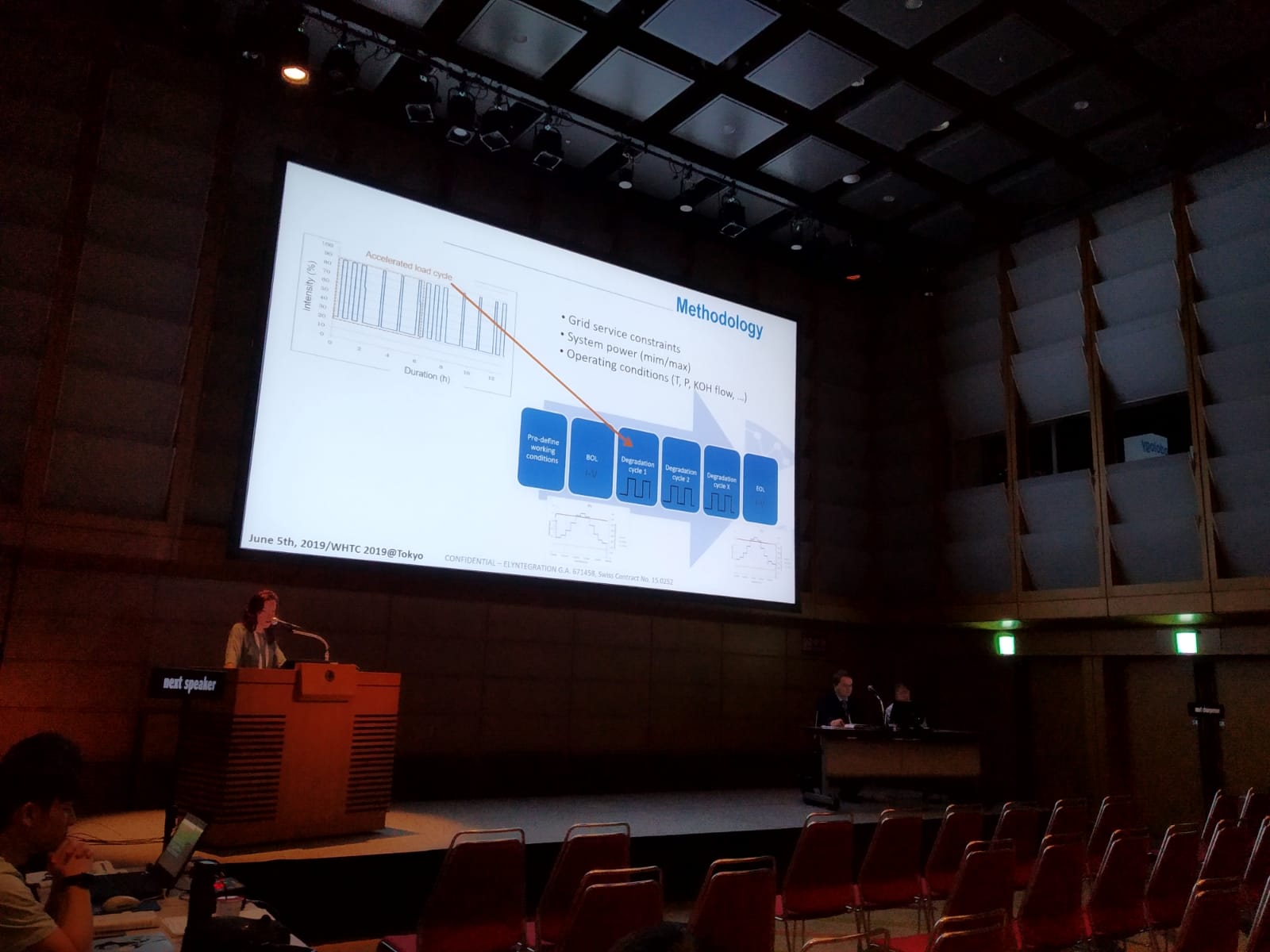 Vanesa Gil, Investigadora Senior ARAID y Responsable del Departamento de I+D de la Fundación Hidrógeno Aragón pudo desarrollar como la producción sostenible de hidrógeno mediante electrólisis de agua, al tiempo que ofrece servicios de red, puede contribuir a alcanzar precios de producción de hidrógeno más competitivos con su ponencia «Perspectives and Challenges of alkaline water electrolysers providing grid services–lifetime assessment of novel materials and components» enmarcada en el trabajo desarrollado por la FHa en el proyecto europeo ELYntegration financiado por la FCH2JU.
La Fundación Hidrógeno Aragón también pudo compartir los avances del BIGHIT, un innovador proyecto de hidrógeno que coordina la FHa en las Islas Orcadas de Escocia. Estas islas tienen más de 50 MW de capacidad instalada de viento, olas y mareas, y producen más del 100% de su demanda de electricidad a partir de energías renovables anualmente. Sin embargo, su producción de electricidad a menudo está limitada por las restricciones de la red, lo que reduce la producción y disminuye los ingresos para las comunidades locales. Nuestra compañera Vanesa con su ponencia «BIG HIT: Creating a Green Hydrogen Energy System in the Orkney Islands» explicó que con este proyecto, la capacidad de reducción se utiliza en su lugar para producir hidrógeno 'verde' a partir de electrólisis. Este hidrógeno se transporta a través de las islas y se utiliza para la movilidad, el calor y los usos finales de energía en la comunidad.B
Effect on the system of alkaline water electrolysers following dynamic operation patterns in view of grid balancing services
El WHTC 2019 tiene como objetivo proporcionar un foro para que el público científico, industrial, gubernamental y general de todo el mundo se reúna y presente sus hallazgos de investigación más recientes, y para ofrecer un ambiente estimulante para discutir e intercambiar ideas sobre temas de investigación fronterizos y posibilidades futuras en tecnologías de energía de hidrógeno a través de presentaciones orales / carteles y exposiciones de tecnología. La conferencia  fue un gran escaparate del desarrollo de tecnologías de energía de hidrógeno en Japón y el mundo.